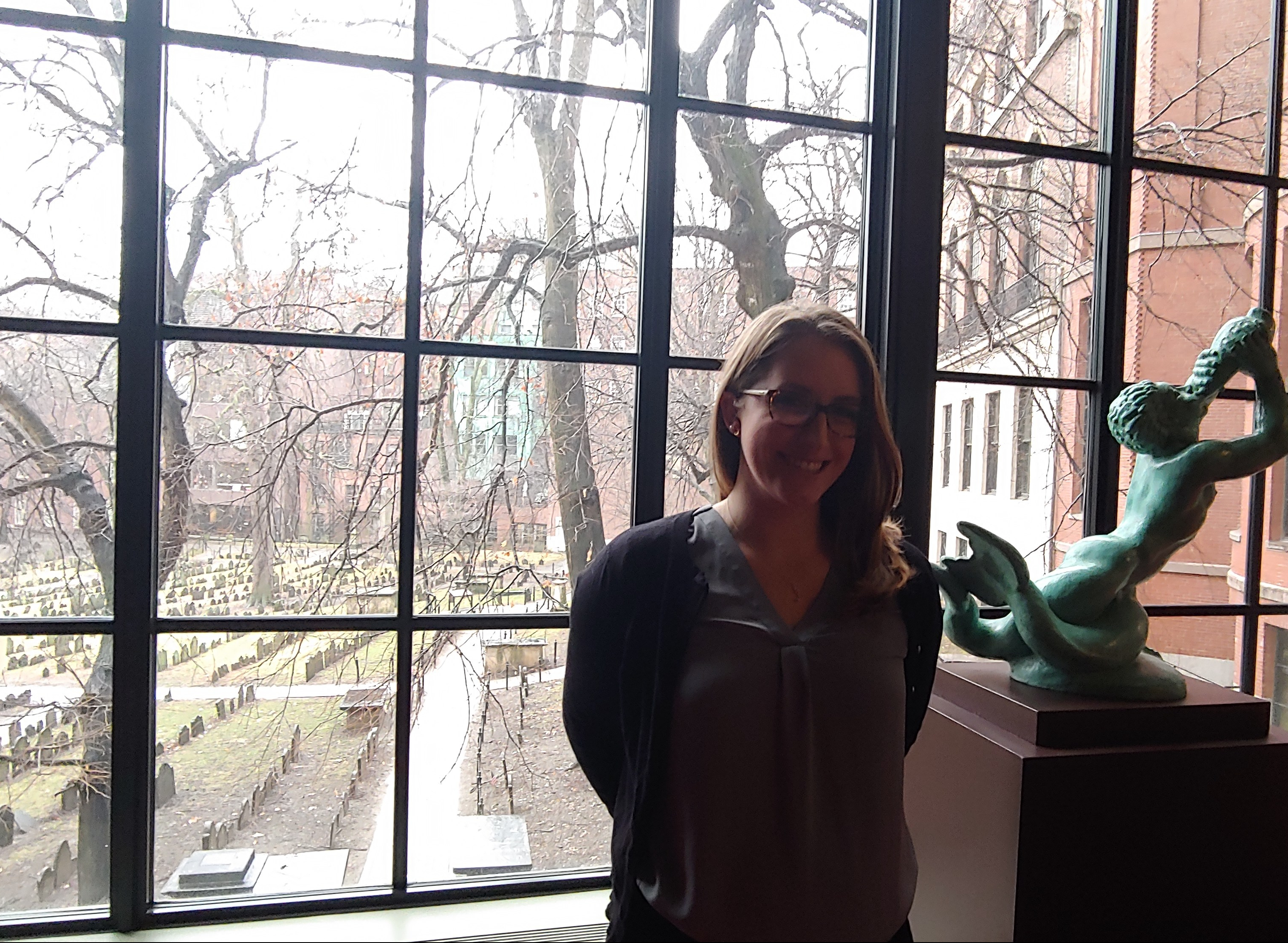 This past weekend, musicology PhD candidate Alyssa Wells presented her paper "A Blaring Silence: Ritual, Hazing, and Abuse in Drum Corps" at the 2019 Harvard Graduate Music Conference (abstract below). In addition to attending this conference, Alyssa was also able to catch up with fellow U of M musicology PhD candidate, Austin Stewart. They are pictured below in the historic Boston Athenæum, one of the oldest independent libraries in the United States.
---
On April 5, 2018, Philadelphia's The Inquirer published an exposé on sexual abuse in The Cadets, an internationally renowned drum and bugle corps. Reporter Tricia Nadolny illuminated accusations of coercion, forced sexual contact, and rampant abuses of power stemming back to the 1980s. Current and former members interviewed in the article accused the corps director George Hopkins of the abuse. Hopkins resigned within a week of the article's release, and the corps' board of directors followed shortly thereafter. Although surprising to the general public, these allegations were not startling to many members of the drum corps community; they were part of a body of commonly known, but securely hidden, knowledge. The Cadets' reputation as a preeminent organization in the Drum Corps International (DCI) competitive circuit has allowed the Hopkins scandal to function as a catalyst for larger discussions about abuse—physical, mental, and sexual—in the drum corps community.
In this paper, I argue that the rituals and traditions—both hazing and non-hazing in nature—that are a part of daily life in drum corps have cultivated a culture of silence within the drum corps community. I use interviews from current and former members of DCI to explore the inner turmoil that causes many to feel they are caught between a moral desire to purge all destructive individuals and an impetus to protect the activity. Theoretical writings on ritual studies allow me to reveal how the repetitive environment of drum corps can be understood as a ritualized practice that encourages a redefinition of morality as well as community solidarity. I conclude that recent measures taken to eliminate abuse have empowered members to break their silence, giving hope to the drum corps community for a more positive future.