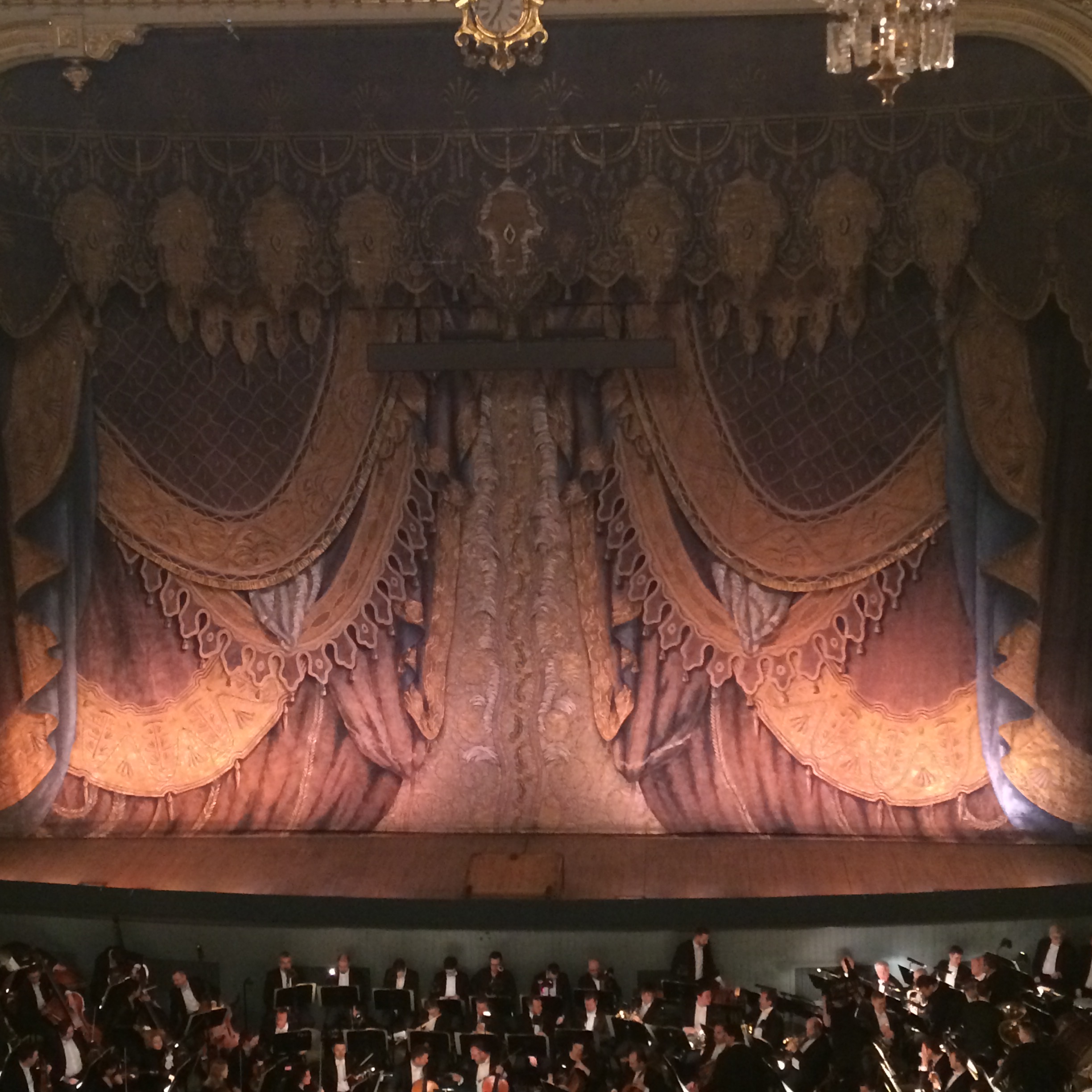 In 2018, I went and saw the infamous Lady Macbeth of the Mtsensk District by Dmitri Shostakovich at the Mariinsky Theatre. It was my second Shostakovich opera in as many weeks, and seeing it meant that I had now seen his opera catalogue in its entirety. Which is an overly complicated way of saying that he only wrote two operas in his long, innovative, and distinguished musical life. Musicologists bemoan his short-lived career as an opera composer, as it seems likely that Shostakovich, who is now mostly known for his symphonies and string quartets, would have produced many more had the Soviet censor not intervened in 1936.
Though much of the history surrounding the first run of Lady Macbeth of the Mtsensk District could be considered apocryphal, the main gestures of the story appear to be accurate. The opera opened to public and critical acclaim in January of 1934. The music and themes of the opera were and are challenging, to put it mildly. The libretto, adapted from Nikolai Leskov's original novella by Alexander Preys, centers on the bored and sensual merchant's wife, Katerina Izmailova, who, in the space of just four acts, has an affair, kills her husband and father-in-law, cooks some poisoned mushrooms, is arrested, and throws both herself and a convicted prostitute into a rushing, icy river. The music that accompanies the action is no less violent or tense. The opera thoroughly reflects Shostakovich's early style, replete with brassy, dissonant outbursts, lilting arias that sound just a tad drunken, and the occasional flex-a-tone solo.
Despite these obstacles of accessibility, the public at first consumed the opera voraciously and critics received it generously. Then, in 1936, Stalin attended a performance of Lady Macbeth. Shostakovich, who was fully aware of the gravity of the situation, sweated bullets through the entire performance. At intermission, Stalin stood up and left the theatre. The next day, the Soviet news organ Pravda (Truth in Russian) printed an article entitled "Muddle Instead of Music." In it, the author criticized Shostakovich for his "formalist" and avant-garde opera, which, according to the author of the article, denigrated women and privileged cacophony, among other vulgarities. It also branded Shostakovich's sound as muddled and violent. The article ended with a warning to Shostakovich, hinting that the young composer should watch his step.
"Shostakovich, who was fully aware of the gravity of the situation, sweated bullets through the entire performance."
This article and the Soviet press's condemnation had reverberations throughout Shostakovich's musical, professional, and personal life. Having watched many of his more rebellious artist friends disappear in the night, never to be heard from again, he feared that his opera might make him the next victim. Thankfully, he was spared and lived a long and fruitful life. Less fortunately, he never again seriously ventured into the realm of opera.
I had all this in mind as I sat down in the Mariinsky theatre to watch the performance of Lady Macbeth. I had been listening to a recording all day in preparation, wandering surreally through a contemporary art exhibition at манеш, as the music shrieked and sputtered through my headphones. I had a brief sketch of the libretto in my head, but Wikipedia can only take you so far.
What struck me most, initially, was the overall harshness of the opera. There is a lot of sex, violence, coercion, derision, and passion, and none of it is portrayed coyly. Within the first act there are two sexual assaults, and in the second, Katerina Izmailova is the victim. I sat in my seat and squirmed, squinting through the darkness to discern if anyone else was as uncomfortable as I was. There was no way to tell. In a moment of historical clarity, I understood why the censor's reaction to the opera had been so strong. Not that I agreed with their position or their actions; it was just that I saw where the vitriol came from.
During the opera's first sexual assault, the opera's titular heroine steps out to defend her servant friend, challenging the assailant Sergei to a wrestling match. This bout ends in a confusing sexual tension between Sergei, and Katerina. At first, I was proud of Katerina's bravery and the implicated approval from the authors of a strong, complicated female character standing up against sexual assault. Just a few scenes later, however, Katerina is herself raped by Sergei, and the confrontation ends with a proclamation of love for her abuser. Later she defends Sergei from her lecherous father-in-law, risking her life and freedom to do so. For the entirety of the opera, Katerina maintains that Sergei is her love and her reason to live. She pines for him relentlessly. Even after Sergei has abandoned Katerina for another woman, it is her romantic rival that she vilifies, not Sergei. After meeting and being assaulted by Sergei, he becomes her motivation.
"I sat in my seat and squirmed, squinting through the darkness to discern if anyone else was as uncomfortable as I was."
I left the theatre really unsure of how to feel about Katerina Izmailova as a character. She was meant to represent a strong, complex, and sympathetic modern woman. But in the end, she is made a martyr for a love born of rape. Over and over again she is manipulated by the men in her life, especially her abuser. And it is only at the behest of Sergei that she ever takes steps to defend herself against those other men. Obviously, trauma has an effect on victims that manifests in complicated and sometimes bewildering ways. By no means am I trying to "victim shame" Katerina for her actions throughout the opera. But I wished that Shostakovich had written Katerina with more agency. Despite her promising opening act, the authors relegate her to helpless victim territory, and at the end of the opera she dies unmourned and unredeemed, though she is undeniably written to be sympathetic.
In short, the way Shostakovich and Preys wrote Katerina Izmailova felt disappointing. It was a missed opportunity to showcase a complicated and strong woman who comes up against the worst kind of adversity and overcomes it. I also feel that it was a missed opportunity to showcase a woman who desires and has sex outside of marriage and isn't brutally punished because of it. This was an opportunity to showcase the damage and inhumanity of sexual assault and rape, and that opportunity was again subverted, by a composer who was ostensibly trying to write an operatic tryptic dedicated to strong female leads. The latter realization was perhaps the most frustrating to me; I recognize that opera as a genre is no friend to women in general, but what do you do with an opera that was written in order to elevate and liberate the role of women, which still staggers into the typical tropes of female persecution?
It is certainly anachronistic of me to demand that a man writing at the turn of the twentieth century jump through these very newly constructed hoops of representation and intention. I have no doubt that Shostakovich had respect for women and often sought to advocate for them. That said, I feel like he and Preys erred in their handling of Katerina Izmailova in that they made her a victim instead of a survivor. Katerina had every opportunity to become the latter, but she remained a martyr.
"This was an opportunity to showcase the damage and inhumanity of sexual assault and rape, and that opportunity was again subverted…"
As with most things that make me uncomfortable, I was glad to have seen the opera. The music is remarkable and the performance was really stellar. And in many ways, it reminded me to hold my own as a woman traveling alone in a foreign country. We are not there and then anymore. Katerina Izmailova is a symptom, and I am hopeful that the women of my generation are part of the cure.