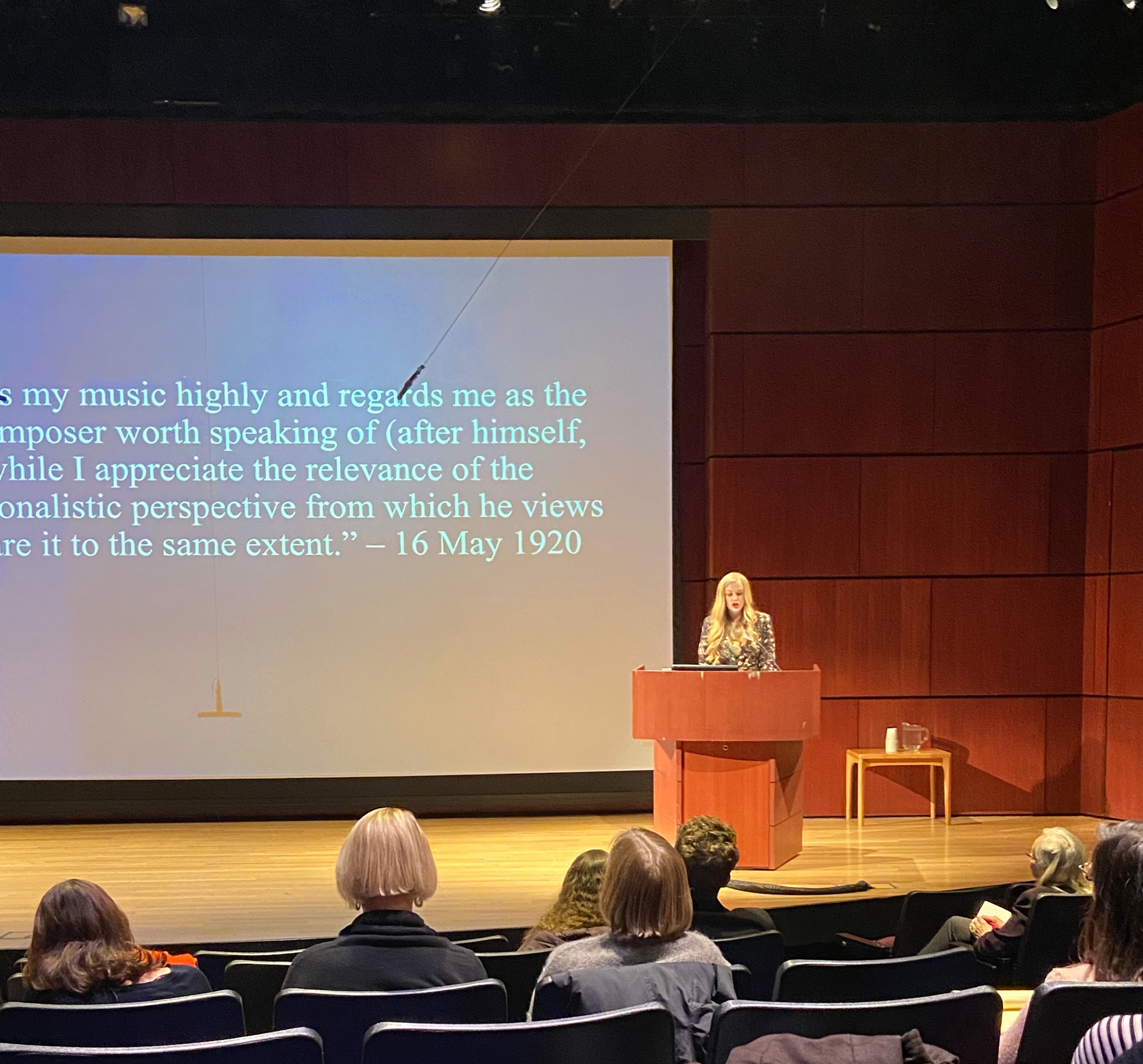 Recently, SMR members Kristen Clough, Michaela Franzen, and Jessica Grimmer presented papers at "Within and Without: 'Les Six' at 100" at Princeton University, a conference held in celebration of the centennial of the group's coalescence. (For titles and abstracts of their papers, please see below.) This conference featured a wide diversity of papers, panels, and seminars that engaged with the music of Les Six, their legacy, and their distinct individual careers. SMR members greatly enjoyed Princeton's beautiful campus (and its culinary delights) on a very snowy winter weekend.
---
Kristen Clough, "The Querelle Bolivar: Identity and the Political in Milhaud's 'Failed' Opera"
Milhaud began his opera Bolivar in 1943 while in exile in California after having fled the Nazi occupation of France. He turned to the history of Simon Bolivar, the famous liberator of several South American nations from Spanish colonial rule, to express his own longing for France's freedom. Milhaud's return to France in 1947 after his exile was seen as a vital step in the recovery of the French musical world—much like he and the other members of Les Six had been key to the recovery after WWI. Because of the connection between Bolivar and Milhaud's desire for French liberation, and Milhaud's importance to the Resistance, all anticipated that Bolivar would triumph at its 1950 Paris Opéra premiere.

Shockingly, after the premiere some conservative critics who had eagerly anticipated the opera did a swift volte-face and declared Bolivar a failure. Clarendon writing for Le Figaro led the charge. Their coverage sparked a controversy in the press labeled the 'Querelle Bolivar.' Bolivar's alleged failure was blamed on a host of musical and dramatic reasons in the press; however, the failure of Bolivar was in major part politically motivated. Bolivar could be interpreted to make trenchant commentary upon the oppression and violence inherent in the colonial system, which grated uncomfortably when the majority in France were in favor of retaining the French empire and pushing towards a renewal in French life after the war. The left press quickly spotted these connections. On the right critics sought to undercut the work by not only declaring it a failure, but also by subtly excluding Milhaud from the tenants of the French musical tradition. Milhaud's Bolivar encapsulated the struggle toward a new French identity, and the composer's own identification with oppressed minorities challenged the increasingly nationalist discourse surrounding France's artistic and political future.
Michaela Franzen, "From Outsider to Insider: The Role of Les Six in Prokofiev's Renegotiation of Identity as a Russian Émigré in Paris"
Much has been written about foreign influences on Les Six in the 1920s, such as that of Stravinsky, Hindemith, and Schoenberg, but far less has been written about their influence on foreign composers in that decade. The composers comprising Les Six are normally viewed as the "outsiders" in France, but when Sergei Prokofiev arrived in Paris in the wake of the Russian Revolution, Les Six acted for him as "insiders" to French culture. Considered an avant-gardist in his homeland, Prokofiev desired for his music to be performed in the same progressive circles as that of Les Six, yet initially he could not fathom why their music found success in Paris while his did not.

Using theories of identity postulated by psychologist Erik Erikson, the present paper will assess how Prokofiev negotiated his Russian identity while immersed in 1920s Parisian culture, continuously judging himself against the group Les Six. Prokofiev's diaries expose his fluctuation of identity as he moved from bemoaning the success of Les Six in the early 1920s to assimilating their compositional influence in the late 1920s. As a Russian émigré, Prokofiev did not fully comprehend the national arguments Les Six was involved in concerning classicism and the construction of a postwar French cultural identity, and his music thus lacked relevancy to the cultural climate. The goal of this paper is to show that through his continual exposure to their works and his assessment of his own failures against their successes, the group Les Six played a critical role in urging Prokofiev to reconstruct his own identity. He gradually transformed himself and his aesthetic to suit the French cultural landscape, ultimately finding compositional success in the unique environment of 1920s Paris as a result of their influence.
Jessica Grimmer, "The Composer in Exile: Darius Milhaud's Suite Française"
In 1947, Darius Milhaud wrote his Suite Française for wind band. The work consists of five movements, each named after one of the French provinces — Normandy, Brittany, Ile-de-France, Alsace-Lorraine, and Provence — and containing folk or popular melodies from that locale. In his memoir, Milhaud expressly states that he wished to write this work for Americans families of G.I.s who fought in France, stating: "For a long time I have had the idea of writing a composition fit for high school purposes…. I wanted the young American to hear the popular melodies of those parts of France where their fathers and brothers fought [on behalf of the] peaceful and democratic people of France."

Milhaud developed as a cultural emissary of sorts, incorporating elements of Brazilian popular music from his travels as secretary to ambassador Paul Claudel into Le boeuf sur le toit and Saudades do Brasil. He continued this tradition with his inclusion of jazz idioms into his compositions, most notably his ballet La création du monde, following a trip to Harlem. Given his catalogue of works that includes titles such as Suite Provençale, A Frenchman in New York, and Kentuckiana, it appears that Milhaud likewise used music to place himself in relation to his surroundings.

This particular work appears unique as it was written about his country of origin while in his seventh year of exile, after he fled the continent in 1940 in the wake of the Nazi occupation. Suite Française thus functions as a work that, while pointed towards the American performer and listener, also looks within to place the composer in relation to his exiled status. This paper uses a combination of epistolary archives and composer memoirs to examine its relation to Milhaud's experience of exile, nationality, and cultural exchange.