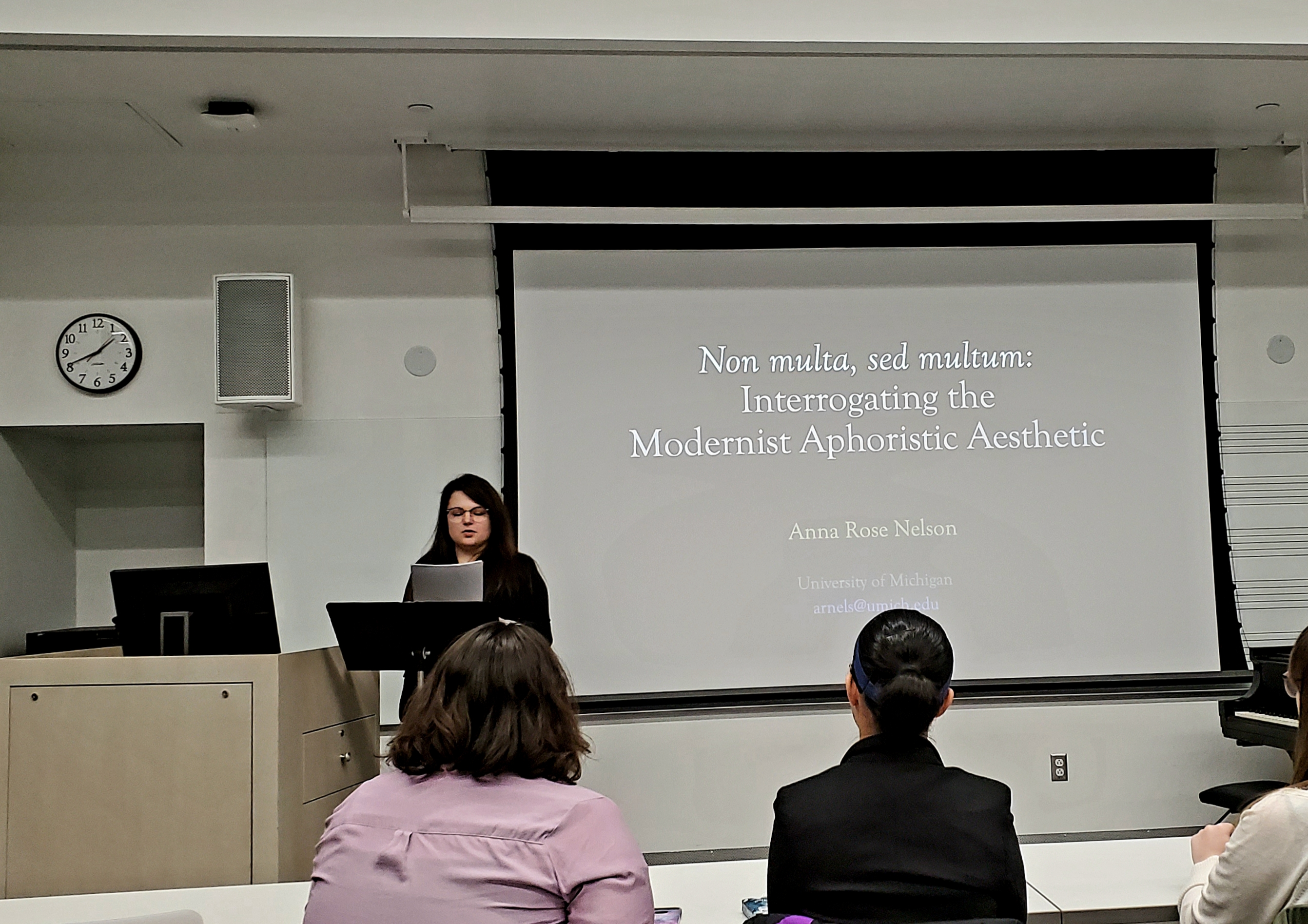 To round out their spring break, SMR members Anna Nelson and Sylvie Tran traveled to the University of Iowa in Iowa City for the 24th annual meeting of the Midwest Graduate Music Consortium. In addition to presenting successful papers (abstracts below), they represented SMR in its inaugural year as a member of the consortium. This year's conference, themed "Music(s) at the Margins," featured a diverse assortment of paper sessions, a concert of new music, and a keynote address by U-M's own Prof. Naomi André.
---
Pictures: Click to enlarge and view captions...
---
Abstracts
"Non multa, sed multum": Interrogating the Modernist Aphoristic Aesthetic
Anna Rose Nelson
Upon the publication of his Sechs Bagatellen für Streichquartett op. 9 in 1924, Anton Webern presented Alban Berg with a printed score, on which he wrote "non multa sed multum" [not much in quantity, but much in content]. This mantra perfectly captures Webern's compositional style at the time: scaled-down pitch content, sparse textures, and most intriguingly, his famously minute forms. In this paper, I assert that Webern's "miniature" instrumental works, which were originally grouped under one opus number—Vier Stücke für Geige und Klavier op. 7 (1910), the Bagatellen (1911/1913), Fünf Stücke für Orchester op. 10 (1911/1913), and Drei Kleine Stücke für Violoncello und Klavier op. 11 (1914)—were the catalyst for a musical aesthetic that has endured a century. What I call the "modernist aphoristic aesthetic" led to the production of many miniature and fragmented works whose unique forms and motivations have, as yet, remained unexplored.
Through close readings of composers' writings, musical analysis, and archival research conducted at the Paul Sacher Stiftung, I investigate this aphoristic aesthetic and its relationship to critical theory to better understand the lineage of musical modernists' aphoristic works. After a brief discussion of form and repetition (or lack thereof) in the Bagatellen, I offer a reading of Theodor W. Adorno's comments on Webern and his contemporaries, new music's place in society, and the importance of fragmentation in art to argue from a cultural and philosophical standpoint that this aphoristic aesthetic has persisted and developed over time. To support this claim, I provide a list of other modernist musical fragments and miniatures spanning the twentieth century, closing with the so-called "Last Modernist," Brian Ferneyhough, and his "fragment-forms." This in-depth analysis of this aesthetic and Webern's initial foray into it begins a long project of unpacking the musical make-up and philosophical foundations of the modernist musical aphorism.

Lofty Goals and Lucky Breaks: Wind Quintet Transcriptions and the Formation of Canon
Sylvie Tran
In March 1954, Woodwind Magazine published a controversial concert review by the New York–based hornist and composer Gunther Schuller. Schuller critiqued a recent concert of the Philadelphia Woodwind Quintet and particularly disparaged the concert's programming, including the transcription of several movements of Ravel's orchestral suite, Le Tombeau de Couperin (1919), by Mason Jones, the quintet's hornist. Schuller himself had written a transcription of Le Tombeau de Couperin for his ensemble, the Metropolitan Woodwind Quintet, several years earlier. Despite Schuller's impassioned disapproval of Jones's transcription, however, Jones's Tombeau prevails to this day as the more frequently performed version of Le Tombeau de Couperin for wind quintet.
Using Jones's and Schuller's transcriptions of Le Tombeau de Couperin as a case study, this paper addresses the relationship between transcriptions and the formation of musical canon, an aspect of transcription that has largely been untapped by scholars. Drawing on concert listings, concert reviews, and Schuller's autobiography, I will first situate the Tombeau transcriptions within the landscape of wind quintet programming in the 1950s in New York City and Philadelphia. Then, drawing on musical features and performance considerations such as blend, register, and voicing, I will examine some of the similarities and differences between Schuller's transcription, Jones's transcription, and Ravel's original orchestration of Le Tombeau de Couperin. Finally, I will use these findings to discuss the many constituent elements that contributed to the success and popularity of Jones's transcription of Le Tombeau de Couperin.