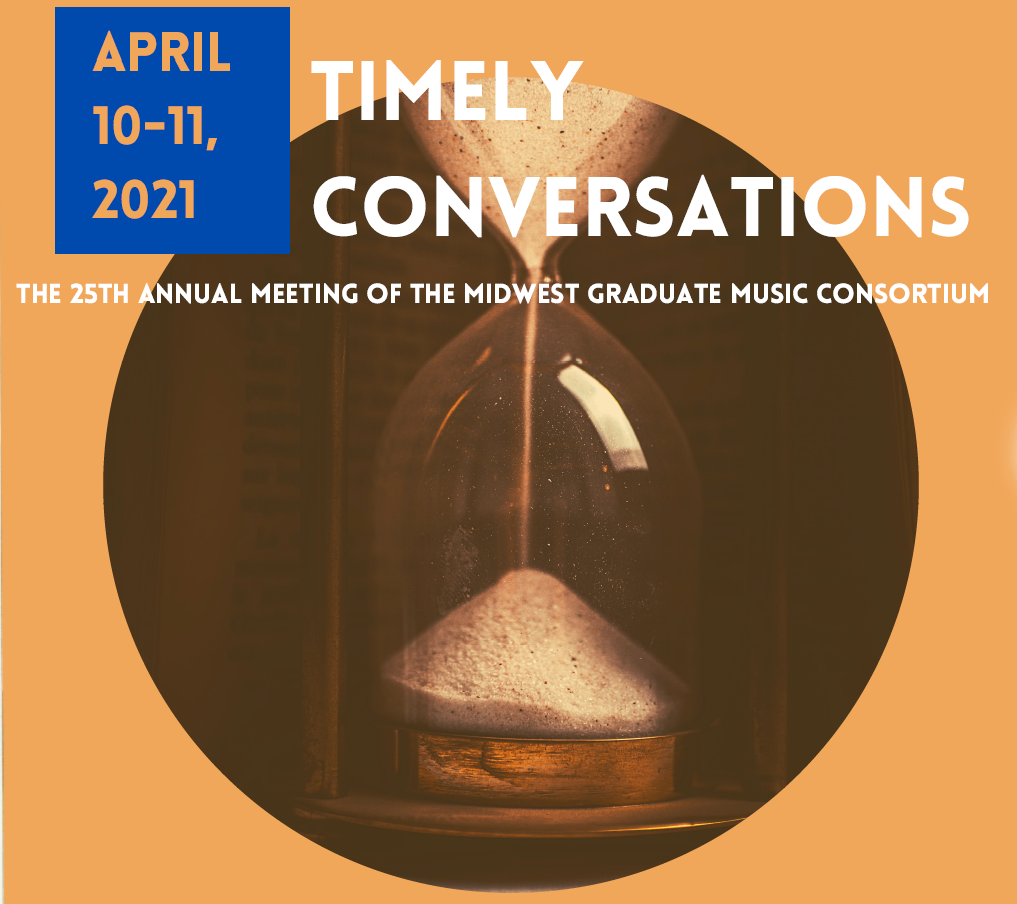 On the weekend of April 10–11, SMR hosted the 25th annual meeting of the Midwest Graduate Music Consortium via Zoom. SMR played host to attendees from institutions all over the world, and the weekend featured twenty paper presentations by graduate students, a New Music Concert featuring five graduate-student compositions and U-M's very own Contemporary Directions Ensemble directed by Adrian Slywotzky, and a keynote address entitled "Black Antiphonal Life" by Dr. Shana L. Redmond (UCLA). The conference theme, "Timely Conversations," focused on scholarship and new music produced in response to the varied conversations that have taken place over the past year about racial injustice, inequality, and the effects of a global pandemic on universities, research, and societies—all of which raise questions about accessibility, prejudice, and power in our work.
The conference was a great success and a wonderful way to build community with our undergraduate, graduate, and faculty colleagues at U-M; with the organizers at the other MGMC institutions (the University of Chicago, Northwestern University, the University of Iowa, and the University of Wisconsin–Madison); and with conference attendees from around the world. Many thanks are due to the conference committee (Joshua Kerobo, Anna Rose Nelson, Sylvie Tran, and Alyssa Wells); as well as to Dr. Redmond, for her keynote lecture; to Dr. Adrian Slywotzky and the Contemporary Directions Ensemble, for their collaboration on the New Music Concert; to the conference presenters and composers, for their stimulating papers and pieces; to the conference's faculty advisors, Professors Cruz, Kaur, and Mukherji; to the many undergraduate- and graduate-student volunteers from U-M and the other MGMC schools; and to the many conference attendees for participating and engaging so fully throughout the weekend.
The conference was supported in part by the U-M Department of Musicology, the U-M Central Student Government, and the Society for Music Theory.
Download the conference program here, or check out the MGMC website for more information.