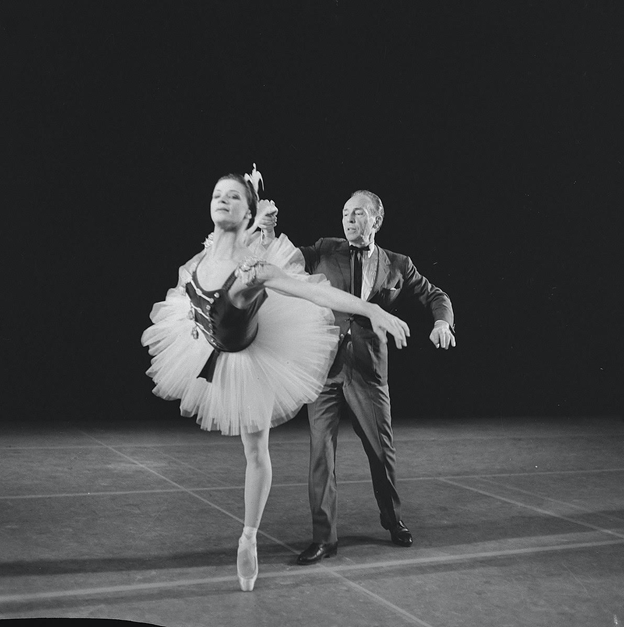 On Friday, April 16th, Lena Leson successfully defended her dissertation in front of faculty, colleagues, and friends. Congratulations, Lena, on the completion of this project, and good luck in your next academic ventures! Please see below Lena's abstract for "Making an American Modernist: Franco-Russian Music Practices and Cold War Aesthetics in the Ballets of George Balanchine."
---
Making an American Modernist:
Franco-Russian Music Practices and Cold War Aesthetics in the Ballets of George Balanchine
The work of choreographer George Balanchine (1904–1983) played a critical role in disseminating a message of American national identity and cultural values as distinct from those of the Soviet Union during the Cold War. Although he was born and raised in Russia and spent a decade working in Europe before immigrating to the United States in 1933, Balanchine was widely embraced as an American choreographer shortly after World War II. The prominence of Balanchine's athletic choreography and abstract aesthetic on Cold War cultural exchange tours reflected efforts to deploy dance as a distinctly American form of cultural expression. Although Balanchine's company, the New York City Ballet, toured regularly under the auspices of the US State Department, dance scholars have deemed the choreographer's anti-communism largely irrelevant to NYCB's participation in Cold War cultural diplomacy. Through a wide-ranging examination of Balanchine's Cold War activism, including his creative work and his membership in a leading anti-communist organization, this dissertation presents a new view of this influential choreographer as an active participant in the culture wars between the United States and the USSR.
This study considers three of Balanchine's signature works: Apollo (1928), Serenade (1934), and Le Palais de cristal/Symphony in C (1947/8), each performed on City Ballet's landmark 1962 tour of the Soviet Union. I demonstrate how Balanchine, working in service of American cultural politics, revised these ballets in what I have termed his "Cold War Formalist" style—a critique of politicized art under the Soviet regime and a contrast to the dominant style of Russian ballet in the 1930s and 1940s. These works projected an ideal of American innovation and cultural sophistication, but they were not choreographed to music by American composers. Rather, Balanchine selected scores by Bizet, Stravinsky, and Tchaikovsky, often revising them using Franco-Russian techniques he learned during his training at the Imperial Theatre School and the Conservatory in St Petersburg, as well as under the tutelage of Serge Diaghilev of the Ballets Russes. The contradiction between the choreographer's musical practices, drawn largely from his Franco-Russian training, and his abstract aesthetic complicates Balanchine's enduring legacy as an American modernist.
"Making an American Modernist" argues that Balanchine was aware of and engaged in cultural-political activities intended to engender international cooperation with the United States while undermining the Soviet Union. Exploring the ways in which Balanchine's ballets both serve and defy these Cold War-era objectives, this dissertation examines the tense interplay between national politics and cultural identity in the work of this legendary choreographer. Reexamining Balanchine's contributions to the Cold War conflict can suggest new ways to understand twentieth-century dance diplomacy.