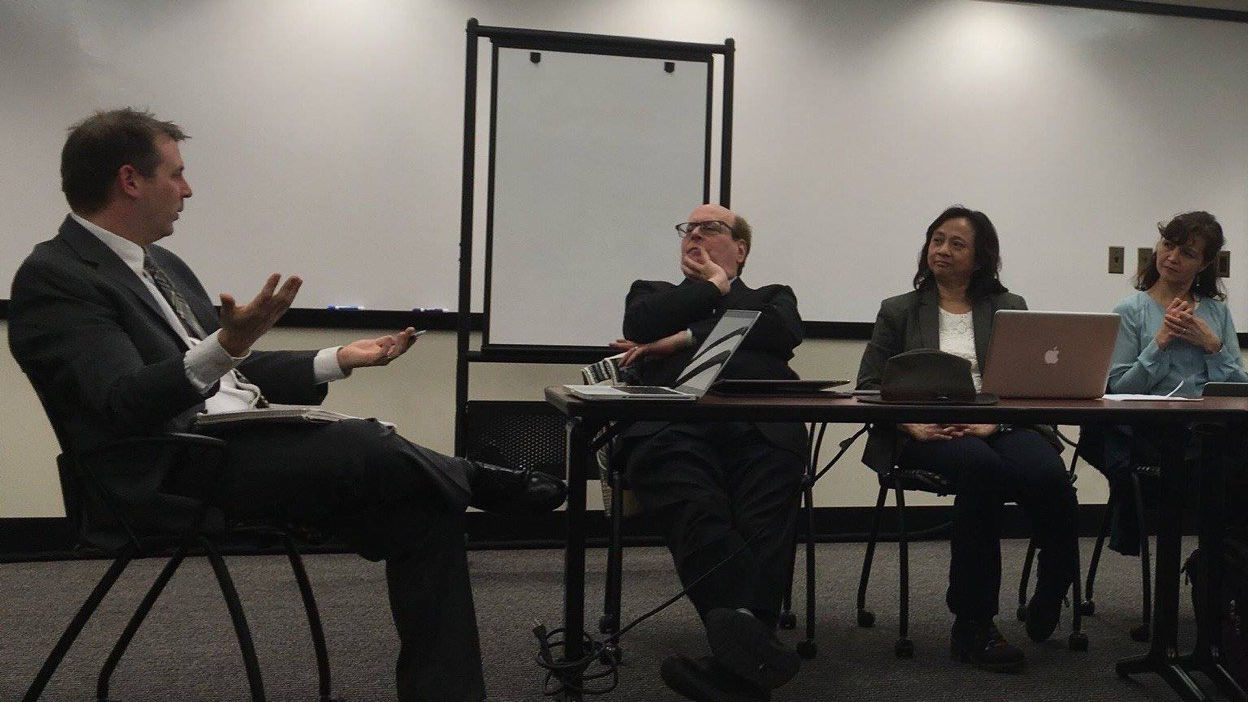 On February 20, Ryan Bodiford, PhD Candidate in Ethnomusicology, successfully defended his dissertation, "Sharing Sounds: Musical Innovation, Collaboration, and Ideological Expression in the Chilean Netlabel Movement." Ryan and committee pictured above. The text of Ryan's abstract is below.
"Sharing Sounds" abstract
In recent years, technological advances have triggered radical shifts in the ways people produce, disseminate, perform, and consume music across the globe. This dissertation contributes to the understanding of these overarching transformations in contemporary musical culture by examining the creative and social practices of Chilean electronic musicians associated with a relatively new class of non-commercial, Internet-based music distribution services known as netlabels. While maintaining ideological commitments to provide free digital downloads of the music included in their catalogs, these collectives allow their affiliates to share innovative works through an alternative media venue, removed from the commodifying and professionalizing pressures that have governed the circulation of recorded music for over a century. In their attempts to cultivate a more collaborative rather than competitive or proprietary creative environment, netlabel artists also generally release their works under the customizable guidelines of Creative Commons licenses, which enable content producers to offer others default permissions for the reuse, remixing, and/or sampling of their work.
Drawing on extensive fieldwork conducted among electronica, electroacoustic, and electro-pop musicians based primarily in and around Santiago, Chile, this dissertation analyzes the nature of musical innovation, interpersonal collaboration, and ideological expression in this historically unprecedented context. It applies the art world theory of Howard Becker (1983) to explore how musicians realize their works and reconceive what is artistically possible in relation to evolving creative circumstances. It relates theories of public discourse and community formation to the realities of new media fragmentation as it examines how netlabels provide a platform for artists to collaborate, communicate, and establish local and trans-local social networks bound by shared aesthetic preferences and social convictions. Incorporating theories of artistic experimentalism, this dissertation also investigates the ideological dimensions of the netlabel movement and their relationship to the leftist social movements in Latin America, past and present. And lastly, this work offers a musicological case study illuminating a broader transnational paradigm shift in the nature of cultural production and dissemination. This shift, according to the terminology of Creative Commons co-founder Lawrence Lessig (2008), reflects a transition from the "read only" model of the past century – marked by passive consumption and the strictly commercial exchange of mediated cultural expressions, to the more democratic and participatory "read/write" model of the digital era – where new technological resources allow creative individuals to more actively engage, recycle, and re-create the cultural discourses that surround them.
–Ryan Bodiford