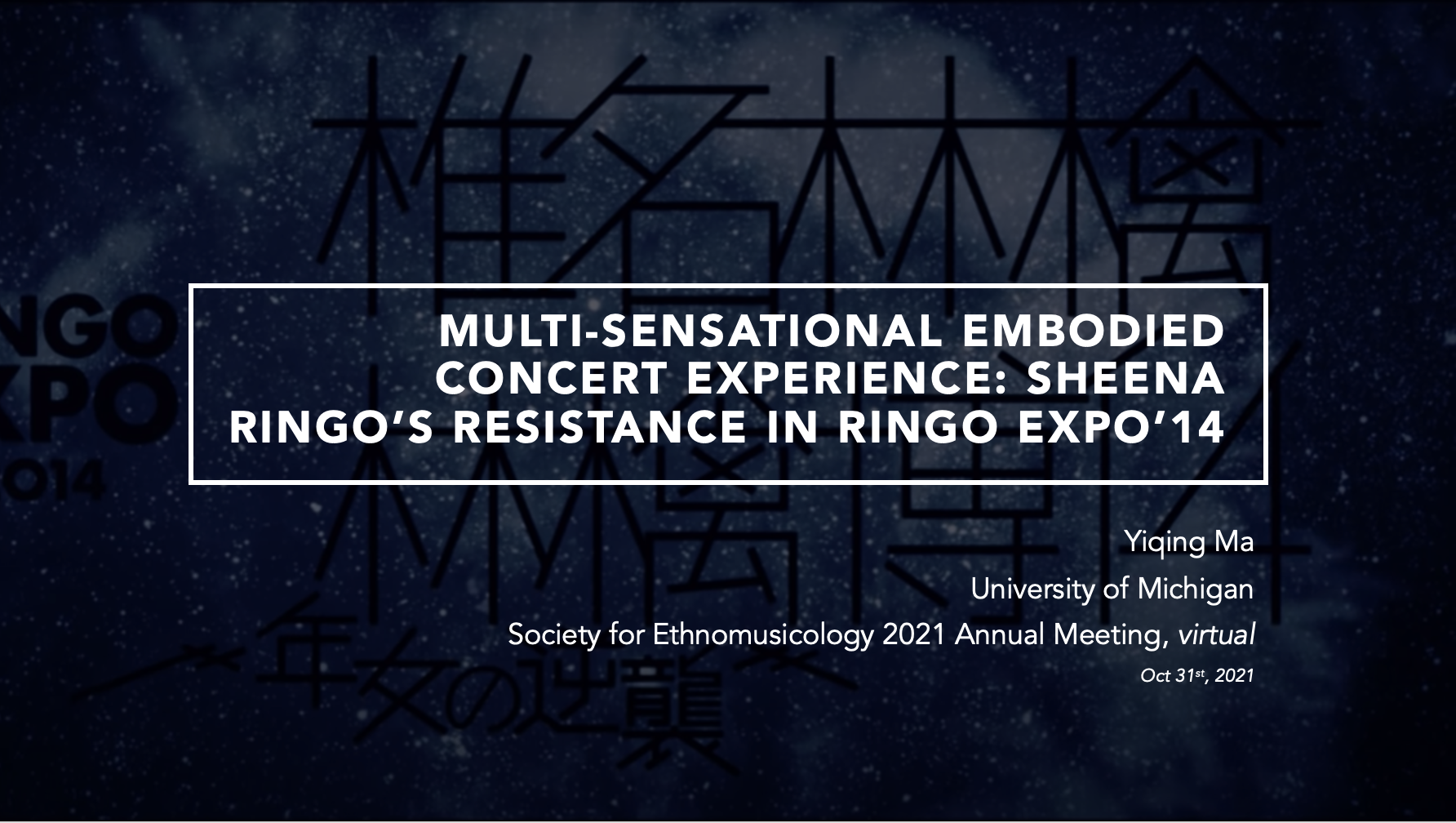 This October, three of our SMR members, Casper Chan, Mitty Ma, and Chuyi Zhu, presented at the annual meeting of the Society for Ethnomusicology. Casper Chan presented a paper entitled "Musical Puzzle-Solving as Social Critique: Crowdsourced Contrafactum in Hong Kong's Internet Culture." Theorist Mitty Ma, crossing disciplinary boundaries, presented a paper entitled "Multi-Sensational Embodied Concert Experience: Sheena Ringo's Resistance in Ringo Expo '14." Finally, Chuyi Zhu presented "Intangible Cultural Heritage and Cultural Tourism: The Dynamics of an 'Unconventional' Relationship in Preserving Endangered Cultural Heritage." One of the participants, Mitty Ma, was gracious enough to answer some questions regarding the conference (see below). Congratulations, all!
---
What about your presentation did you feel went well?
I rehearsed a few times before the presentation, so I thought the delivery went well. The online format somehow makes me less nervous.
Did you make any professional connections that you were excited about?
Yes! I went to the interest group meeting of Japanese Music Performance and surprisingly found a recent author I have read, Jennifer Milioto Matsue, is the leader of the group. I literally just read her 2008 ethnography Making Music in Japan's Underground: The Tokyo Hardcore Scene a week ago. I also have met Garrett Groesbeck, an ethnomusicologist whose works were presented at SMT, and found out about a mutual theorist friend working on Japanese Music Theory—what a small world!
What was it like to present at a conference outside of your declared discipline?
I would say it is a struggle at first to cross the disciplinary boundaries. Prof. Castro made me aware that I was facing a different kind of audience at SEM. Before the presentation, I was worried about presenting the research to the "experts" who might question my approach. I definitely tailored my paper to this particular audience.
After the presentation, I realized ethnomusicology gives me tools to embrace all the different facets of my experiences and my skill sets. I found it hard to receive this kind of acceptance in the field of music theory. I came from a very different (cultural and disciplinary) background, and this research is my first attempt to admit my "difference" and one that incorporates all my multi-disciplinary research interests I've had for a while.
Any tips for those who might submit abstracts in the future?
I would say don't hesitate to submit an abstract when the CFP comes out. I also want to give a shoutout to my fellow colleagues (Sylvie, Cody, Sunhong, Carlos, Josh) in the Pre-Candidate Writing Group who helped me tremendously to revise this abstract. I am so thankful for this community, and it is important to keep in mind no work could be done just by oneself, even in the humanities.